Happy Birthday Wishes for Grandson
Each Grandson is a gift, enriching our world and teaching daily lessons in spontaneity. Baby Grandsons are sweet, while toddlers and boys are little tornadoes of energy, knocking over houseplants as they go. As they grow, we proudly watch them mature into fine human beings. Wishing our Grandsons a happy birthday is both a requirement and an honor. Sometimes we want to just give them a sweet expression of our deep love for them; sometimes we want to (attempt to) speak their language. Following are a few ideas for letting your Grandson know just how valuable he is to you.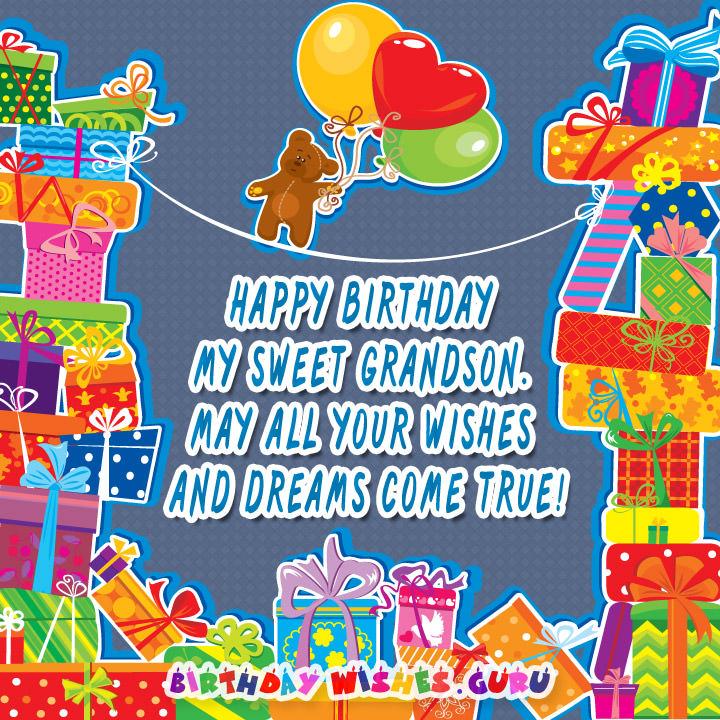 Celebrating the Gift of Grandsons with Loving Birthday Wishes
Happy Birthday, little Grandson, and thank you for putting the "living" back into my life.
Grandson, birthday boy … little did I know when you entered my world what lessons in love you held for me.
Happy Birthday my sweet Grandson. May all your wishes and dreams come true!
Hey, Grandson dude! I'm massively stoked to wish you a solid, blastin' birthday. (Later, you can explain what I just said).
Grandson, whatever you do, wherever you go, you'll always have my love in tow. Happy Birthday!
On your Birthday, Grandson, I want you to know that I love you even more today than I did when I held you for the first time.
You're so big, Grandson. Just yesterday, I was bandaging your skinned knees and today you're my enormous birthday boy!
Yesterday a sweet baby, then a precocious boy. Grandson, it's your birthday and I'm completely filled with joy.
Celebrating your birthday, Grandson, we reflect on the baby that thrilled us, the boy that challenged us and the young man before us.
Sleeping Grandson, now turning one year old, unaware of the way you're improved the lives of everyone around you.
Happy birthday to the best Grandson a person could ask for. Your parents are doing a wonderful job!
As I watch you grow, learn, explore and become a fine young man, I'm so thankful. Happy Birthday, Grandson.
Happy Birthday to my Grandson. I thought I knew what it was like to love someone, then you were born.
At the age when many Grandsons are pushing the boundaries to the breaking point, you are a respectful, mature Birthday Boy.
Two, four, six, eight — soon I'll watch you graduate. Grandson, Grandson, GRANDSON! (Happy Birthday)
To my dear Grandson… On your birthday, I wish you all the happiness you've brought to me. That's A LOT!
Grandson, today's your birthday and I have just one thing to say … "Birthday, Schmirthday!" I wish you happiness EVERY day.
I'm so happy to wish you the best on your birthday. You've given me the best Grandma experience ever.
Grandson, I'm going to take lots of pictures on your birthday and add them to my VERY large brag book. Love you, Sweetie.
Tremendous boy, tremendous Grandson, you deserve the most epically tremendous birthday in recorded history.
God graced our lives with a boy like you: handsome, sweet, intelligent too. Wishing a super tremendous birthday party to our cute and lovable little smarty.
You get A's in physics, but I'll bet you can't even fathom how much you're loved. Happy Birthday, Grandson.
Hey Grandson, how about you scrape the mud off your shoes, put the bugs in a jar, climb off the roof and join me for birthday cake?
Grandson, if your birthday party matches your epic fantasticness, we'll be cleaning up confetti for days.
Birthday I wish for my Grandson: Legendary fodder for historic birthday lore that will be regaled for generations to come.
How can one little boy bind a family, demonstrate what real love is all about AND be the perfect Birthday Grandson?
Thinking about your birthday, Grandson, makes me downright silly with well-wishes and love.
Happy Birthday to you, Happy Birthday to you, you look like an angel and you act like one too. Grandpa's very proud!
Candy, confetti, crepe paper, games, singing, and lots of hugging for my Grandson's birthday. I can't wait!
Happy Birthday to my sweet Grandson, the apple of my eye, and the reason I'm glad I didn't kill your Dad when he was a teenager.
Happy Birthday to my snooky-wookums, peachy cheeks, little prince and snuggle monkey. I promise I won't say that in front of your little friends.