1st Birthday Wishes for Cute Babies
Birthdays are a wonderful time each year to stop what you are doing and focus in on the incredible memory that, on this very day in a previous year, you were welcomed into the world. Sharing in the celebration of others' birthdays is one of the best ways to emphasize how unique that individual is in your life. So, it goes without saying that celebrating the very first birthday is one of the most significant milestones to be celebrated in one's life. Now, while the infant won't remember the celebration, what you write in their card could be a keepsake that lasts for years in their scrapbook. Make it count!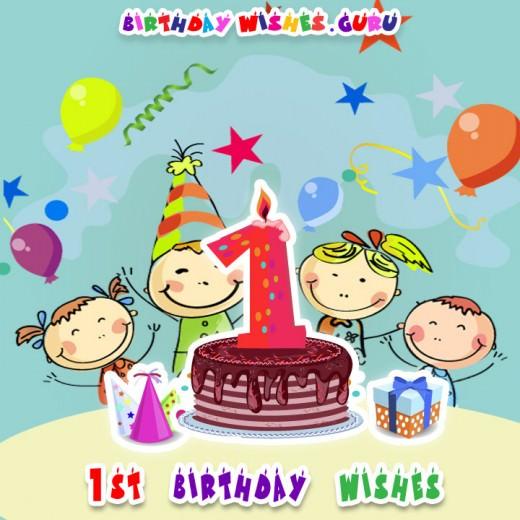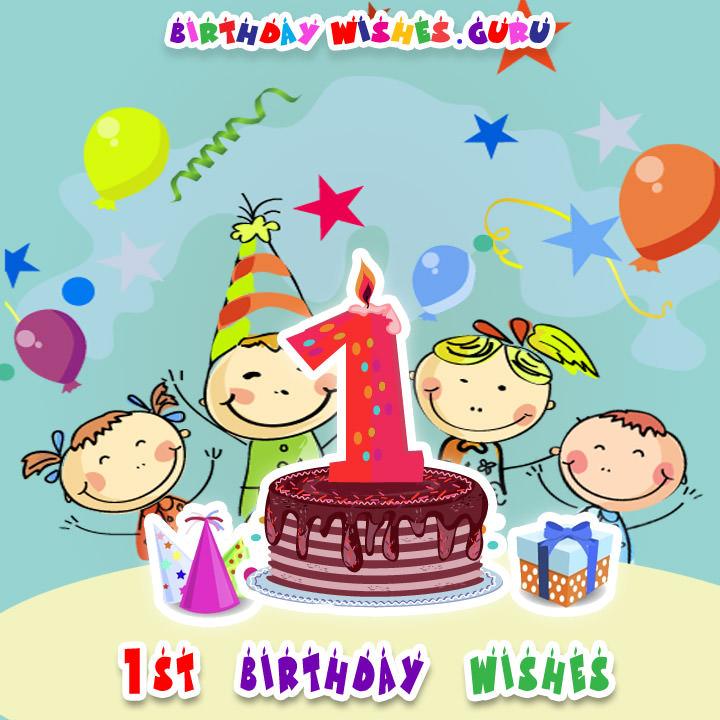 1st Birthday Wishes for your Baby Son
The first time we held you in our arms, we were changed forever. You brought us happiness and hope. Happy 1st Birthday, son!
Happy Birthday, son! I hope your present is as enjoyable for you as your adorable smile and precocious laugh are to us!
Happy 1st birthday to a darling little boy who holds the future in his cute little hands. So proud to be your mom and dad!
Our little dude is 1-year old, and our hearts are filled with joy. Happy Birthday, and we look forward to a hundred more of these celebrations.
Everything is hopeful and bright with you in our lives. Happy 1st Birthday, little guy!
Son, we relish all your 'first' milestones – the first smile, the first tooth, the first word. Now, Happy first year on planet earth! Happy Birthday!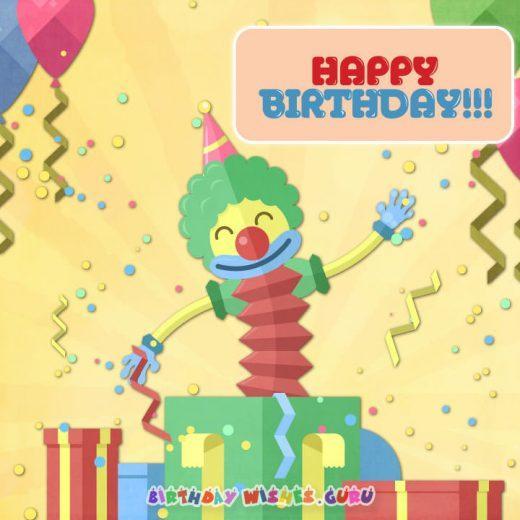 1st Birthday Wishes for your Baby Daughter
You brought magic into our lives. Hard to believe that you're only 1 today. Happy birthday, little love!
I'm so glad you've brought a full year of smiles and love to us already!
You may be small, but you have the power to make grown men (Dad) grovel and grown women (Mom) cry. Happy, happy birthday to you, love!
Happy 1st birthday to our little darling. We can't imagine life without you.
Darling, you made our lives complete. Happy Birthday to our 1-year old angel!
A daughter is a blessing to be cherished forever. Happy 1st birthday to our dearest one!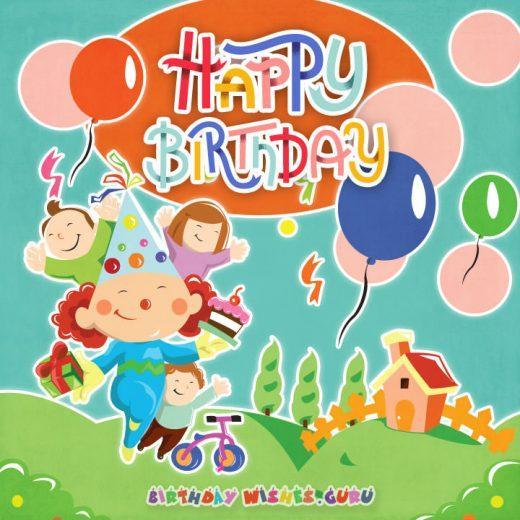 1st Birthday Wishes for a Friend's Baby
Babies are bundles of joy. Happy 1st birthday to the little one who has brought you so much happiness.
The sun was shining, and the birds were singing the day your baby was born. It's been days of sunshine and music since then. Happy 1st Birthday, magical baby!
Today's headliner: Happy 1st Birthday _____! You are the chosen one.
This is a first for you and your adorable baby. Have a wonderful 1st birthday!
Happy 1st birthday to the special baby who has made life more interesting for Mom, Dad, and everyone around them. May your years be filled with happiness and fulfillment.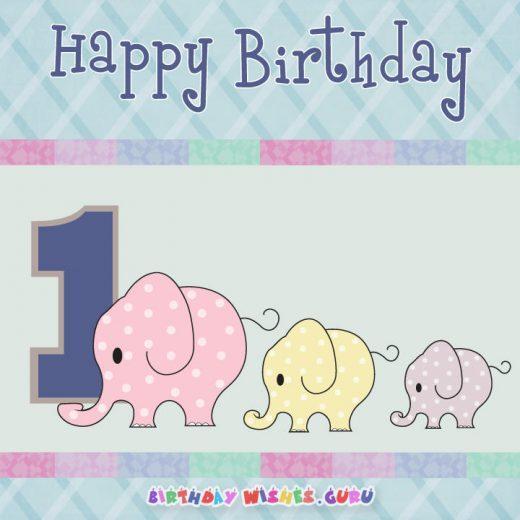 Adorable 1st Birthday Wishes
Today is your special day! But since you're such a special [boy/girl], you should live it up like it's your birthday every day!
One year ago today, you were welcomed into our lives. What a precious gift you are to us all!
It is hard to believe it has been a year already. You are such a treasure!
Here's to a Happy Birthday! Enjoy your cake now, when you get it all over your face in a few years people won't think it's as cute!
Happy 1st Birthday to the cutest little kid I know. While you are new to this whole birthday thing, I've had plenty and let me give you this piece of advice: People will laugh when you drop food on the floor right now…start doing that at birthday parties in your 70s, and it's not as cute anymore…
It's a special time of year…Happy 1st Birthday to a special little kiddo. I love how you make your parents glow!
Happy Birthday you little one! I hope you have the best start in life.
You're turning one…what a bunch of fun…your smile brightens up the room…just like the morning sun!
Happy 1st Birthday, it'll be one to remember…well, for us…maybe not for you! 🙂
If kids love the box a toy comes in more than the toy then you might love the envelope more than this card, but either way Happy Birthday!
We are so blessed that you are a part of our lives. On your very first birthday, know that you're the greatest gift of all!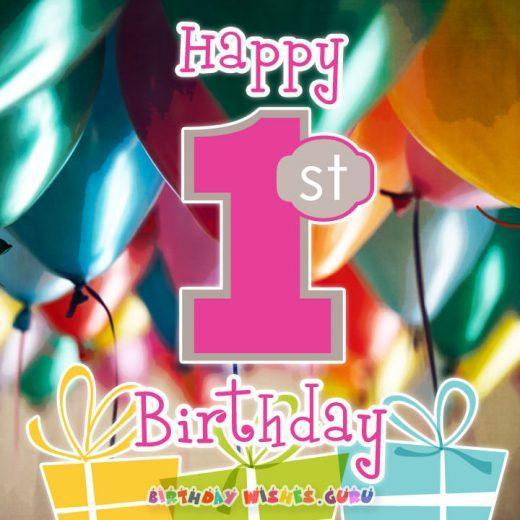 Sweet 1st Birthday Wishes
Happy 1st Birthday, kiddo! Cake, presents, and lots of singing…it sounds like a typical Tuesday for me but an extraordinary celebration for you!
Happy Birthday to a little bundle of joy that has a special place in my heart…the upper left area right next to my love of chocolate.
This is an important day because it marks the first year you've spent in our lives. We can't wait for many, many more. We love you dearly and are so glad we can be a part of your big day!
Happy Birthday! If you're not quite sure how to celebrate, take a lesson from me: Party hard until you fall asleep while everyone is still here…no one yells at you for that when it's your birthday!
On this special day, I just want you to know how big of a deal you really are. Only someone as cute as you could convince your daddy to change diapers!
Happy Birthday! How much you've grown up already, my little angel!
You're one year old today! While you don't know what that means, for the rest of us it is an excellent excuse to eat junk food, make googly eyes at you, and 'ooo' and 'aww' over every move you make. Wait, we already do that most days…
Happy Birthday to the cutest one-year-old all over the world!
On your big day, I just want you to know that I love you and am so happy I can celebrate with you and your family!
Happy 1st Birthday! You only get one first birthday, and it's all the more special because I'm here!
More Birthday Wishes