Cute 4th Birthday Wishes
Heartfelt Wishes for Young Celebrants: The Right Words for or 4-year Old
Check out this amazing collection of 4th happy birthday wishes for son, daughter, nephew, niece, and others. These birthday wishes will help you to wish them all. Even with younger celebrants, the birthday greetings should be sincere, although using a lighthearted tone is the best way to get the message across. In modern times, birthday wishes may be sent through social media posts and email. However, the old standbys, such as greeting cards that are mailed or personally delivered, are still appreciated.
4th Birthday Wishes for your Baby Son
To an awesome son turning 4 today: You rock!
You are our pride and joy. You are our light shining in the darkness. We love you to the ends of the earth, son. Happy Birthday to our 4-year old!
Always strive to be the best you can be, whether you're doing backflips, shooting baskets, or munching on fries. Happy 4th Birthday, my dearest son.
It was only yesterday when you shook this house to the rafters as you spoke your first word – dada. Daddy is so proud. Enjoy your 4th birthday, Son!
You are a wonderful little boy who will someday become a fine young man. We look forward to your exciting future. Happy 4th Birthday, Junior!
Mischief is your middle name, but we love you so, Son. Enjoy your 4th birthday party because it only happens once.
4th Birthday Wishes for your Baby Daughter
A princess is turning 4 today. She'll have the biggest balloons, the sweetest birthday cake and the loveliest presents from all who love her. Happy 4th year to my dear daughter.
Happy Birthday to ____, Princess of our Hearts!
You've amazed us every day with how kind and smart you are, and you're only 4. We are so grateful to have been blessed with such a lovely daughter. Happy Birthday!
I've learned something new every day since you were born. You have made me a better version of myself, my sweet daughter. Happy Birthday!
Today's cake and ice cream are to let you know that you've made our lives so much sweeter and richer with every day that passes. Happy 4th Birthday, our sweetheart!
May your life be filled with happiness and dreams fulfilled. Happy 4th Birthday, my sweet baby girl!
Happy 4th Birthday Messages for Boys
Some people are born to lead. You are one of them. Happy 4th Birthday!
For a 4-year old, you are pretty cool. So excited to watch you turn into the perfect little person as you grow. Happy Birthday!
You are the most incredible child that deserves the best party. Happy 4th birthday!
I can't grant you three wishes, but I'll always pray for your success. Happy 4th Birthday!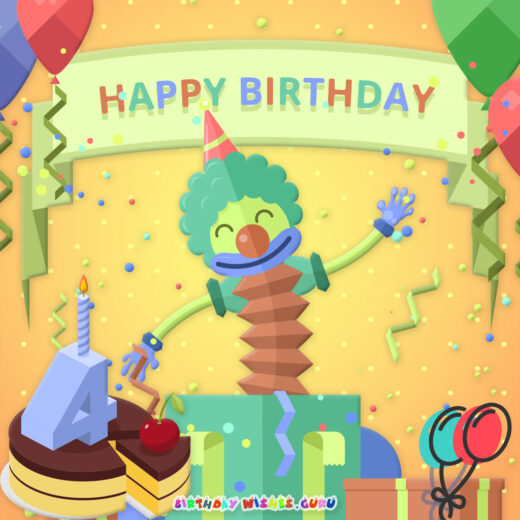 Happy 4th Birthday Messages for Girls
Sweet little Princess, may all your dreams come true today and always.
You can enjoy yourself today as a great queen on this special day. Happy Birthday to a magical 4-year old!
Happy 4th birthday to you today, little lady! Wishing you lots of fun for you and your friends!
Have a magical birthday as you turn 4. You are a blessing to us all.
More Birthday Wishes