Happy Birthday Wishes for Granddaughter
Celebrate the gift of granddaughters with these loving birthday wishes. Let your Granddaughter know just how valuable she is to you. Granddaughters are wonderful gifts. They are bundles of joy that never fail to amuse and amaze. No wonder grandparents go out of their way to make every birthday special as a way to bond with their granddaughters. Every surprise gift and every message of love sent to a granddaughter of any age is an expression of deep caring and appreciation of the joy and hope that they bring to grandparents. When it comes to messages, however, make sure that the text is appealing to the recipient. Lighthearted messages are always winners and so are touching messages of love, concern and faith in a bright future for the birthday celebrant.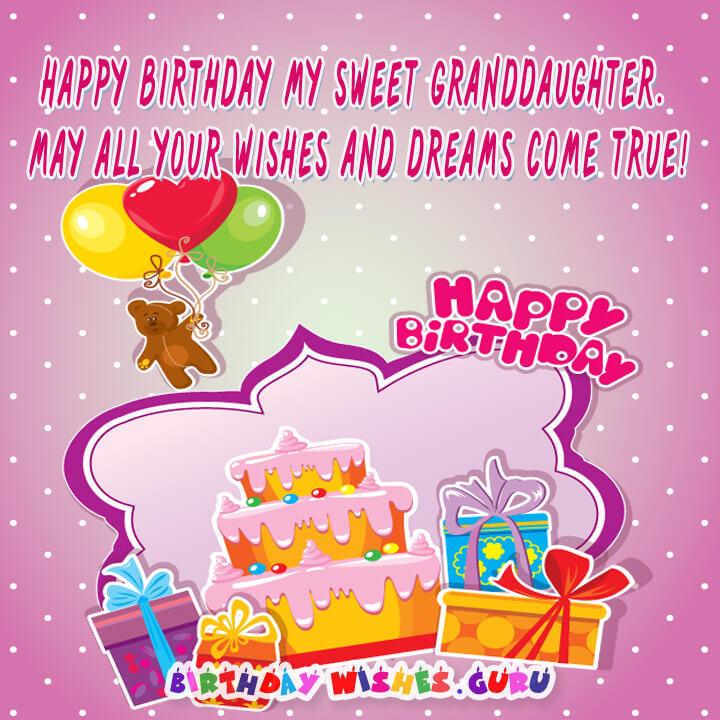 30 Amazing Ways to Send Birthday Love to your Granddaughter
I knew we were in the presence of an angel when you were born, and you have lived up to that promise. On your birthday, dear granddaughter, know that we are proud of what you have made of yourself.
You are the bright sunshine that we wake up to every day. You are the light of our life. Happy Birthday to a wonderful child now nearly a woman.
Happy Birthday my sweet Granddaughter. May all your wishes and dreams come true!
I am beyond proud of all the good that you do for people around you. Happy Birthday to the sweetest granddaughter in the world.
I am constantly amazed as I watch you grow. You uplift and inspire others with your compassion and thoughtfulness. Happy Birthday, my little love.
Just when I thought it was not possible to love anyone more than I love my own children, you came along. Happy Birthday, dear one.
Happy Birthday to someone so lovely. You remind me so much of myself back in the day – sweet, sassy and so smart.
I look at you, and I see hope. I hold you tight, and I feel joy. I listen to your chatter, and I sense wisdom. The world is yours to rule, and I am confident that you will do a better job than the generations before you. Cheers on your __th birthday.
The first time I held you in my arms, I was overcome with an incredible feeling of peace. You are a special gift, and I love you with all the love in my grandma/grandpa heart. Happy Birthday.
You bring the best kind of happiness – the granddaughter kind of happiness. I look forward to every day that I can spend with you. Happy Birthday.
Today is one of those extra-special days when a grandma/grandpa gets to spend the day with their extra-special granddaughter because she's turning ____. Happy Birthday, sweetie.
No matter how much you tower over us now, you will always be our little princess and our pride and joy. Happy Birthday.
May your wishes and aspirations become your destiny. You deserve it all, my darling granddaughter. Have a lovely birthday celebration.
If they were handing out awards for "Best Granddaughter of all Time," I am certain that you would win handily. You are an inspiration to us all. Enjoy your birthday.
A thousand birthday kisses from across the miles for the loveliest granddaughter one could ever wish for.
Thank you for bringing so much light and happiness to this lonely grandpa/grandma. You make me proud. Happy Birthday.
Happiest of birthdays to the sweetest cutie pie who captured our hearts on this day ___ years ago. You reminds us constantly that the world is a wonderful place.
___ years ago today, heaven answered our prayers and sent you down. Happy Birthday, angel.
May your birthday be filled with all the love, blessings and joy that you so richly deserve.
Happy Birthday to my pride and joy. You are the reason I want to live a very, very long life.
Warmest birthday wishes to the sunshine of my life – my lovely and amazing granddaughter. You make me proud.
I remember that joyful day when you arrived. Since then, you have multiplied our joy and enriched our lives. Happy birthday, my little darling.
Happy Birthday to my granddaughter who is beyond adorable. May your special day be filled with laughter and amazing surprises.
You are cute beyond description. I am the proudest grandma/grandpa in the world. Have a bouncy, flouncy, joyful birthday.
Granddaughters like you are the reason the world keeps on going. You have the passion, the courage and the wisdom to make this a better place for the generations that will come after you. Happy Birthday.
You are my own little secret fountain of youth. Spending time with you makes me decades younger. Happy Birthday, sweetheart.
Wishing you the best birthday ever. Every year, we come together to toast the little bundle of joy who has brought so many blessings to this family.
You are pure delight and a pleasure to spend time with. Wishing you a birthday filled with love, happiness, cake and ice cream.
Bring on the balloons. Break out the silly hats. It's time to celebrate a special day for my favorite little person – my granddaughter. Happy Birthday to you, my lovey.
Without you, we would not be grandparents. We are tremendously proud to have that title. Happy Birthday, sweetie pie.
I will never cease to be amazed at the person you have become. You are dedicated, compassionate and smart beyond your years. Happy Birthday, sweetie. May your life be defined by dreams fulfilled.
More Birthday Wishes