Unique 3rd Birthday Wishes for Baby Turning 3
Birthdays are special at every age. It is a time for celebration, in which loved ones, friends, and colleagues can join in by sending birthday greetings in various forms. Birthday wishes can be sweet, funny, or formal, depending on your relationship with the celebrant. Check out this fantastic collection of 3rd happy birthday wishes for Son, Daughter, Nephew, Niece, and others. These birthday wishes will help you to wish them all.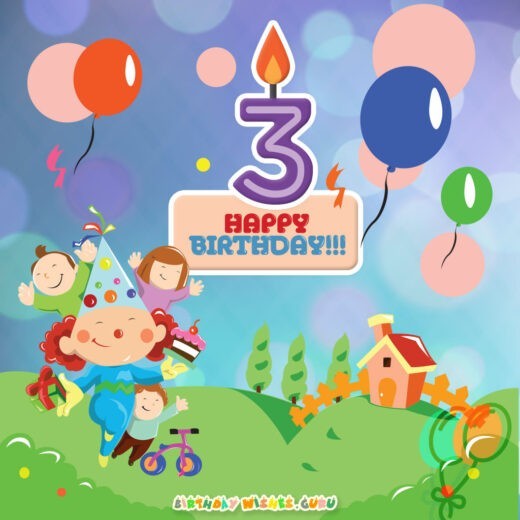 3nd Birthday Wishes for your Baby Son
You are an amazing kid with a fantastic future waiting for you. Have a happy, bouncy 3rd birthday, my sweet boy.
Three years ago, you brought us great joy just by being you. Today, you turn 3, and our hearts are filled with hope and happiness. Happy birthday to our blessed child.
Three years ago to the day you came and made our lives complete. Happy 3rd Birthday, Love.
You're 3 and still so full of glee. Happy birthday to the best little boy this world has ever known.
You are so smart and adorable that I often wonder who you take after. Happy 3rd birthday, sweet child of mine!
I can't believe you're mine to cherish forever. As you turn 3, I am reminded of how much we have been blessed. Happy Birthday, Son!
Nothing in this world could have prepared me for you, my little bundle of sass and smarts and sweetness. Happy birthday to the most amazing 3-year old on this planet!
3nd Birthday Wishes for your Baby Daughter
My lovely little doll is 3! You are the best thing that happened to me. Happy Birthday, Sweetie!
She's bouncy. She's sassy. She's lovely, and today, she's 3! Enjoy your party, my beautiful baby. You deserve the best.
Hey, my sweet princess, I am sending you lots of love for you as you have turned three this year. You are the cutest thing that ever happened in our life. Wish you a great future with so much love.
I look at you, and I see faith, hope, and love. Happy 3rd Birthday to my little girl. I am so proud of you.
You are all heart and sweetness, and we can't believe how lucky we have been that you came into our lives. Happy Birthday! You are the best.
Happy Birthday, boss baby! You're an awesome little girl who knows what she wants. The world is yours when you're ready. Meantime, enjoy being 3.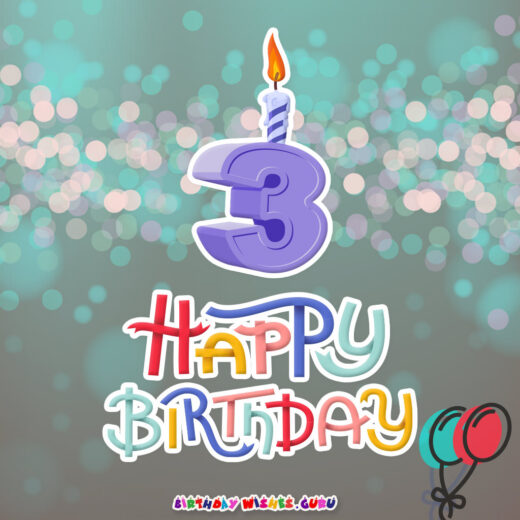 Happy 3rd Birthday Messages for Boys
You're a cool kid, and you're only 3. I can't wait to see what you'll be when you're 23. Happy 3rd Birthday!
Happy birthday to the most notable three years old boy! There is none to compare with you; you're a real champ.
It's time to blow out the candles. Let's get this big party started. You're 3 and ready to rock. Happy Birthday!
Your mom tells us you're awesome. One look at you, and I know you're beyond awesome. So enjoy your big 3 today and for the rest of the year.
You are the cutest boy I have ever seen in my life. Today is the special day of your life, and I am sure that your mother and father prepared you for a great birthday party with all your friends. Have fun! A big kiss for you!
Happy 3rd Birthday Messages for Girls
Happy Birthday to my favorite girl in the world. You deserve the biggest 3-year old birthday party today. Enjoy!
Happy Birthday to a 3-year old destined for the big time. I'll be cheering on you all the way!
Best birthday wishes for the best little angel who turns 3 today. Happy Big 3 to you!
You're naughty and nice. You're full of fun and always helpful. I wish you good luck. Take lots of love from my family and me.
Happy third birthday! You are an amazing girl, and I am glad to be here with you and your family. Enjoy your day.
More Birthday Wishes