Daughter Birthday Wishes
A daughter's birthday is a special event, and choosing the right birthday message can be difficult. When you send your daughter birthday wishes, you want to let her know how special she is. A daughter is the perfect blend of love, wonder and joy. Sometimes, birthday wishes sound so insincere. Whether she is ten or fifty, she will always be your little girl. Let us help choose just the right words to put in a card or send in an email or instant message. Just browse the Happy Birthday Daughter section below and choose the wish that best captures your feelings. Let the greetings on our site help you and your special daughter celebrate her birthday.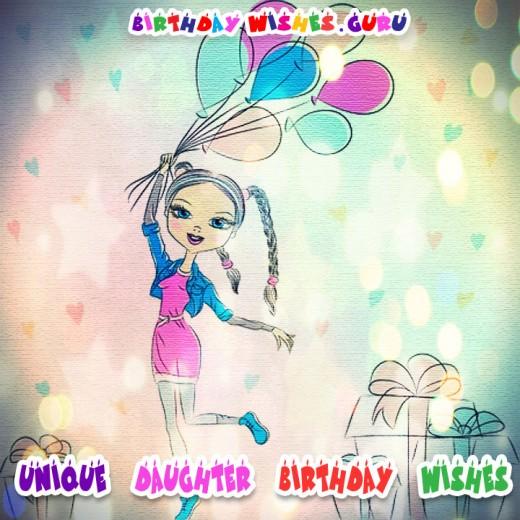 Daughter, you are a beautiful and smart young woman. I could not be more proud of you. I love you. Happy Birthday, sweetie!
Happy Birthday to the world's most amazing daughter! I cannot believe how the years have flown by. You have become an independent woman, but you will always be my little girl.
I know we are far apart, but you will always be in my heart. I am thinking of you on this special day. Happy Birthday, my sweetheart!
Daughters are precious, kind little girls. I dreamed of the woman you would become, and you have far exceeded my expectations. I am so proud of my little girl. Happy Birthday, daughter!
Birthdays are special days, and today is your day, my angel. May you have a blessed and very Happy Birthday, daughter.
We still remember the day you were born as if it were yesterday. With each day we have with you, our heart swells with even more love. Happy Birthday to our darling daughter.
They say your life changes when you have a child. This could not be truer. Daughter, the day you came into our lives, you blessed us with the greatest love possible. We love you, and Happy Birthday.
Our little girl, oh how you have grown. We remember the late nights and early mornings. The sick days and the fun days. You will always be our little angel. Happy Birthday, sweetie!
For my little princess on her special day: may you wish upon a star and have all of your hopes and dreams come true. Mine did the day I had you.
Birthday wishes for a special little girl. We love your smile, your spirit, your heart. Happy Birthday, babygirl.
Happy Birthday, darling daughter. Our little princess, our little pride and joy, may your day be as special as you are.
Make a wish, my beautiful little girl. Wishes do come true, and we know that because ours did the day we had you. Happy Birthday to the world's best daughter!
To our little girl on her birthday: we are humbled by your kindness, entranced by your beauty, smiling because of your sense of humor. You are an inspiration to us, and we are so proud to call you our little girl. Happy Birthday!
Darling daughter, words cannot express the love we feel for you. You're perfect in every way. Happy Birthday to our beloved, beautiful, special, little girl.
My daughter, my darling angel: my heart swells with joy when I see all you have done. Tears brim in my eyes with a sense of pride. I could not be more proud of my beautiful angel. Happy Birthday!
Happy Birthday to our little angel. You have a heart of gold and a beautiful smile. May your day be blessed and filled with joy.
Who could imagine such tin fingers could grasp a father's heart so tightly and hold it all these years? Wishing you a wonderful birthday, darling!
Happy Birthday to the wonderful, unique woman who is my daughter, from someone who's pretty wonderful in her own right.
Daughter, your dad and I were thinking about you today. And yesterday. And the day before that. You are greatly loved. Wishing you a wonderful birthday, darling!
To my daughter: I will always be there to be the one who lifts you up to see over the guardrail at the zoo, even when you're tall enough to see it by yourself. I will be there.
I wish I could fulfill your heart's desires on your birthday the way you did mine. I wish you the most beautiful day ever.
You are the best of both of us, and we both wish the best for you. Happy Birthday, beautiful daughter!
I hope your day is as beautiful and as warm and sweet as you are! Happy Birthday, sweetie!
You are not a mini-me and —trust me—that is a VERY good thing. You are wonderfully, happily YOU. Wishing you a wonderful birthday, darling!
Funny Birthday Wishes For Daughter
I wish you a day full of ice cream and lollipops on your birthday, daughter, but you should probably stick with salad and a small portion of lean meat.
Today, celebrate your birthday as the wild child you are. Just don't tell your father
Daughter, we heard you wanted a new Mustang for your birthday. No problem. Do you want the Barbie stable, saddle and grooming brush to go with it?
Daughter, I asked your mother to put a wad of hundred-dollar bills inside your birthday cake so you could buy something absolutely amazing for your birthday. Don't bother searching. She said no.
Remember that birthday, years ago, when you almost ate a whole cake and a gallon of ice cream before you "threw up your socks?" No problem. I have the video.
Daughter, do not do the first thing you think of to celebrate your birthday. I am your mother. I know best. Trust me on this.
On your birthday, remember: dads and daughters go together like donuts and holes. Like cupcakes and sprinkles. Like hotdogs and mustard. Hey, are you getting hungry?
To my little girl, celebrate your birthday with balloons and ice cream and teddy bears. But brush your teeth before you go to work.