Happy 18th Birthday – Birthday Wishes for an 18 Year Old
An eighteenth birthday is a big milestone in a teenager's life. It's the year of high school graduation and college enrollments. Many life decisions are made at this age, and these decisions have a sense of urgency to them. This is the age of figuring out what these young adults are passionate about and which career choices they choose to follow. When wishing an 18 year old happy birthday it's best to keep it short, simple and sweet. Some examples are written below: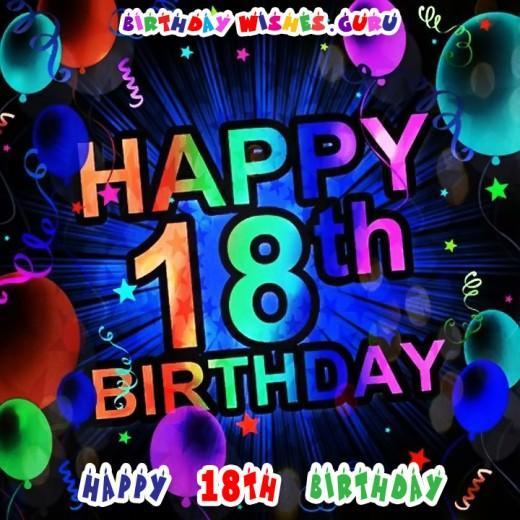 Turning 18 will transition you into a crazy world filled with many surprises and obstacles. Enjoy adulthood and remember your parents will always be there for you.
Happy 18th birthday to a young man who is more mature and wise beyond his years. You are ready to take on the world. Stay positive and focused while conquering all your dreams.
Turning 18 means no more worries about petty childhood drama, instead look forward to grown up decisions. Good luck surviving the adult world.
An 18th birthday is exciting, but your 21st birthday will be even better. Happy birthday friend and wait until 21 to celebrate with alcohol.
My child is grown up and celebrating his 18th birthday today. Stay true to yourself son and follow your heart in everything that you do.
A young girl becomes a woman on her 18th birthday. Welcome to womanhood and all the exciting things that come with it.
Your 18th birthday is a reason to celebrate life and new beginnings. Take advantage and embrace all the opportunities that will head your way.
Tonight is the night to celebrate my best friend's 18th birthday. Let's party and celebrate this milestone in our lives.
Turning 18th means gaining responsibilities of adulthood. Now is the time to start making plans for a successful future. I have no doubt you will succeed in the real world.
We've been best friends for over a decade and I couldn't imagine growing up without you. I will always cherish our friendship. Happy 18th birthday.
Happy birthday to one of the smartest, prettiest and most loyal friend I know. I have all the faith in the world that you will have a successful future and happy life.
Happy birthday to my little brother. I will always be here to guide and protect you no matter how old you get.
May all your wishes come true on your birthday. Thank you for always making time for me in the good and bad times. I appreciate all that you do and hope your day is filled with hapiness and love.
Happy 18th birthday to my amazing boyfriend. Today, as the day turns to night I will pamper and spoil you. Sit back and enjoy one of the best days of your life.
Good friends are hard to find, but lucky for me I found one. I look forward to celebrating many more birthdays with you in the future.
Adulthood is calling your name on your 18th birthday. Today is a big day and major life changes are headed your way. Keep your head up and stay motivated and positive.
Everyone says 18 is the age to grow up. As your best friend I say we are still teenagers and need to take advantage of it before our youth is up. Let's celebrate tonight as only a teenager could.
As my son turns 18 years old, I never realized how fast time flies by. I look at how much you have grown and flourished into a man. I am so proud of you.
Your 18th birthday is a good one, enjoy all the events of the day and cherish the memories of the transformation from a child to an adult.
Turning 18 years old will open your eyes and heart to new opportunities and life changes. Please be patient with life and stay consistent with following your dreams.
For your 18th birthday I just wanted to remind you of all the great things that are headed your way: independence, career, voting, military options. Have fun with all the choices!
Adulthood is making your own choices and taking responsibilities for your actions. On your 18th birthday say goodbye to childhood and hello to adulthood.
I wish you a great birthday and hope you get all you hoped for. Celebrate your special day safely.
Happy 18th birthday to a newly responsible adult. Take it all in and have a great day adjusting to adulthood.
As you turn 18 always remember that the world is full of imperfections and obstacles. Don't let any of them stop you from success and happiness.
Growing up means moving on from childhood situations into adult decisions. Good luck with your transformation and have a great 18th birthday.
Now that you are 18 and legally an adult, don't forget that I will always be your mother and expect you to listen and respect me no matter how old you get.
Happy birthday to my best friend! No matter what type of problems arise in the future I will always be there to help you.
I hope your 18th birthday is fun and exciting. Lucky for you I know how to party big and will make your night unforgettable.
Your 18th birthday has finally arrived, be prepared for the amazing journey that lies ahead. Have a wonderful day.