Romantic Birthday Wishes. Express your Feelings to the One you Love!
Browse this delightful selection of romantic birthday wishes for boyfriend, girlfriend, wife, husband, fiancé, or lover. Birthdays are a great time to celebrate the one you love. She'll appreciate the attention and tender, loving care. He'll be flattered by your kindness and devotion on this day just for him. Mark the occasion with a heartfelt expression of your feelings. Use any of our romantic birthday wishes to get your message across. Give her a card with a handwritten sentiment chosen from our delightful selection. Send him a text message on his birthday. One of our short and sweet birthday messages will say it all. When you give a present, add a note with one of our unique expressions. Your thoughtfulness will be long remembered.
Cute and Romantic Birthday Wishes
The whole world revolves around us when we are together. Let it spin. What's another year? Happy Birthday, my dear.
Gather all the flowers and let their petals rain down from the heavens. Let sweet birthday messages fill the air. They're all for you.
My magical and charming Beloved, have a magical birthday surrounded by every color of the rainbow, every sparkle of the world's jewels, every heart that knows you and loves you. This I wish for you.
You are everything about my past that I love, everything about my present that I cherish, and everything about my future that is worth the anticipation. For this special day, I want you to know that you own my heart.
There is no greater satisfaction than to share all of life's treasures and pleasures with that special person who truly cares. I'm with you all the way, especially on your special day.
The things I want to happen to you today are for all of your wishes to come true and keep that smile you had this morning throughout the entire day. Happy Birthday, I love you.
There's no place in this world I'd rather be than my favorite place, in your arms. On your Birthday, I realize I wish it could stay like that forever.
Happy Birthday to the world's most brilliant sweetheart. You deserve all the happiness, love, and success that the world has to offer. I'm looking forward to celebrating your Birthday in several ways during your birthday month.
A basket full of hugs for the wonderful person I plan to spend the rest of my birthdays with. Here's hoping that I am on your mind as you celebrate your Birthday as much as you are in mine at every waking moment.
Here's a bouquet of kisses for a special person on a special day. Happy Birthday to someone I will love and cherish for the rest of my life.
Thank you for making all my wishes come true. I promise you will not forget this Birthday because I plan to make all your wishes come true.
My heart is dancing. I can't wait to be with you. Let grace and song keep you happy on your Birthday till we are together again.
Know this to be true love, that we are as complete apart as together. That's because no one can separate us. My thoughts are with you today, on your Birthday, and always.
Passionate and Romantic Birthday Wishes
When God made you, He thought He was still making angels. Let your light shine on this most auspicious day, my beautiful one. Happy Birthday.
Through laughter and tears, through sunshine and rain, your eyes have kept their sparkle. May you have another radiant year. May I see it all.
After all the years and tears and fears, I am still deeply and madly in love with you. You are a special gift, and I am so grateful. Here's to many more birthdays to come.
There is no gift catalog out there that could help me find a gift for you. You deserve every little bit that your heart desires. You deserve the world. Happy Birthday, my dearest love.
I don't believe in fairies, elves, and miracles. But then I met you—happy Birthday to the human who brought many miracles to my life.
There is no love more significant than that dedicated to the person we intend to share the rest of our life with through good and bad, in fair and foul weather, no matter what obstacles come between us. I will recite this pledge for your Birthday and every Birthday hence.
Fairies chime their tiny silver bells while the flowers sway to the music. All of nature sends out such sweet birthday messages to celebrate your day.
What a glorious morning for a birthday. Hope your day continues to be as light and warm and glowing as the sunrise until we meet again.
No one will know that my thoughts stray to you all day today. I am pretending to work, but inside I am singing Happy Birthday to You.
Grant me one kiss, and romantic birthday wishes will flow as my lips seek yours. You're the one I adore.
You are my soulmate, my best friend, and my partner in all things good and not too good. I can't imagine life without you. On your Birthday, I want to remind you of all the reasons that I love you.
I bask in the warmth of your embrace, happy to know you and to celebrate with you on your special day. What could be better than this?
Children can know the sweet, pure tenderness of love such as ours. We play at being worldly as children might, but we are not of this world. Happy Birthday, angel.
Keeping track of the days is a delight when you are there in every one of them. Sending romantic Birthday wishes your way today.
Let's make this day special by celebrating like there's no tomorrow. Your love makes my life worth living, so let's make some living and celebrate another year of life.
May your sweet Birthday bring you nothing but happy memories, great fun, friends, and food and hold the key to your happiness to a bright future.
Images with Romantic Birthday Wishes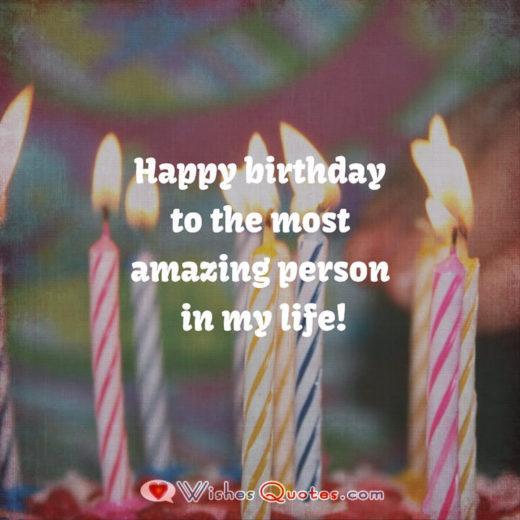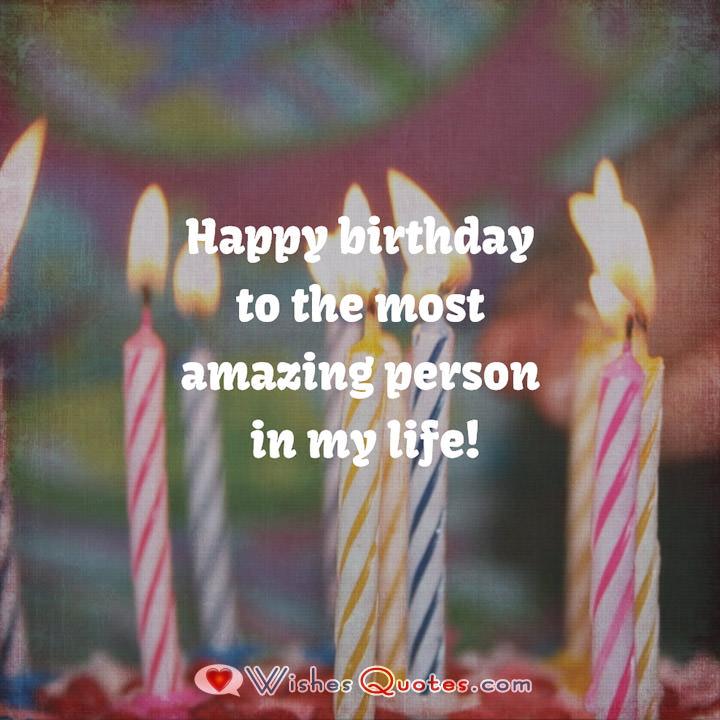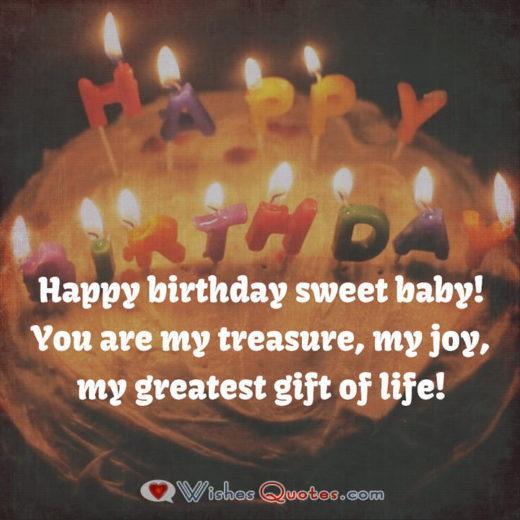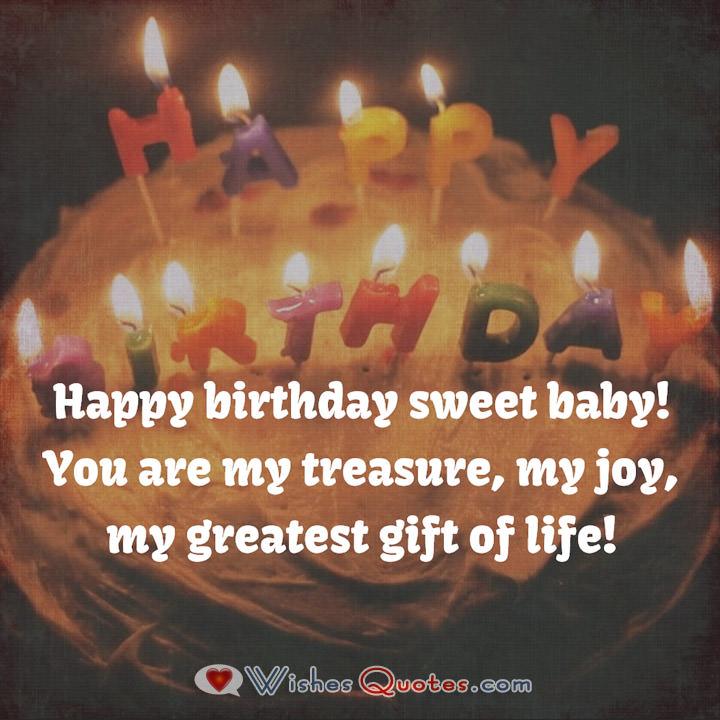 Adorable and Romantic Birthday Wishes
Let's raise a toast to start a fantastic birthday celebration—happy Birthday to a special person who brings me passion and inspiration every day.
I hope that all your dreams and desires come true on this day. Happy Birthday, I hope you get everything you possibly want.
Be prepared for a celebration of romantic birthday wishes all about good food, good drinks, and being surrounded by people who adore you. Hope you enjoy what's in store for you on your Birthday!
I do not always show it, but you are the most important, wonderful, and magical part of my life. Nothing can change that no matter how many birthdays we celebrate together. Enjoy your special day!
I always want to look in your eyes, and I want to be there sharing in everything you do. My wish is to grow old with you, sending Birthday wishes your way, dear.
Happy Birthday to the one I married, the one who knows me and appreciates me. I am so grateful for everything you do, and I am truly blessed to share our lives together.
You always manage to bring joy to my life no matter what. You are my life, my rock, and my happiness. On your Birthday, I need you to know how much I treasure, honor and respect you. I love you!
I will forever be grateful for the affection you have given me through these years. I just hope you never get tired of me because, without you, my life is meaningless. Have a great birthday!
You deserve all the good stuff you've been posting about on Pinterest. Here's hoping the Birthday Santa will bring you some of them.
It's hard for me to admit defeat. But I bow before you, ready to admit that I have entirely, utterly fallen in love with you. On your Birthday, I offer you my heart as a special, everlasting gift. Please be gentle with it.
When you walk near me, I can feel the passion; whether it's a slight look or a simple touch, I get a tingling when I see you. It's a sweet feeling. I know it is because of us. For your Birthday I want you to know that you complete me.
I love your hands; they are a symbol of strength. I love your eyes; they show so much honesty and wisdom. I love your smile; it never fails to light up the room. But most of all, I love all of you. Happy Birthday, my dear.
I will always be here for you: a shoulder to cry on when you're down, arms to hold you up when the going gets tough, and nimble fingers to light all the candles on your cake.
Tonight for your birthday, let's remind ourselves how much fun we can be. Let's get dressed up, hit the town, and party like we did while still dating.
Short Romantic Birthday Wishes
Blow your candles! Make a wish! And I will give you ..a Sweet big kiss!
Happy Birthday to the most fantastic person in my life!
No matter how many years pass, you will always be one of my dreams, enjoy this special Birthday and feel the love in all that you do.
I adore you. You are my queen(or king)of hearts. Happy Birthday!
Happy Birthday sweet baby! You are my treasure, my joy, my greatest gift of life!
I wish you a sweet life filled with love and laughter. Happy Birthday, my beautiful sweetheart!
Happy Birthday, my love! May your day be super special!
My heart is dancing with delirium. I can't help but sing for today is your Birthday. I hope your birthday is as special as you are.
Happy Birthday! This day will pass quickly, but our love will endure.
Since I met you, the well of my heart has filled with the pure, clear waters of love. Drink from my heart, my dear, and we'll toast to your Birthday.
I found my perfect match in you. I am blessed. Happy Birthday, my love. You complete me.
Happy Birthday to the bundle of awesomeness who comes with a wicked sense of humor.
Your Birthday gives me an opportunity to express that you mean more to me than anything else in the world. I will always cherish you.
More Birthday Wishes