Celebrating Teenagers: Birthday Wishes for the Teens in your Life
It's the thought that counts, especially when it comes to birthdays. Of course, a nice gift for a special celebrant makes the event more memorable, although just showing you remember the person's birthday through heartfelt greetings is all that's needed.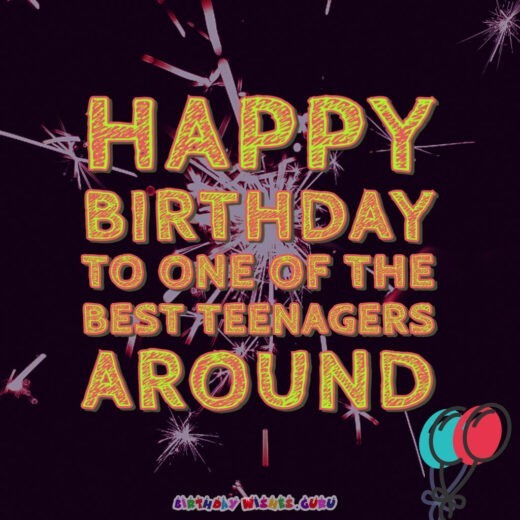 How to Wish a Teenager Happy Birthday
Social media has made sending birthday wishes and shout-outs to mark someone's birthday easier and more convenient. Still, traditional greeting cards sent by mail or delivered in person provide a nice touch for sentimental loved ones who like to collect and display mementos. However, when it comes to teenagers, online greeting cards with quirky messages and graphics are sure to catch their attention.
Birthday Wishes for Teenager Son
Son, you are wise beyond your years, and you will be wiser still as you become a man. Again, happy birthday, and may all your dreams come true.
We are so proud of the remarkable young man you have become. Happy birthday, champ!
On your birthday, may you have every wish fulfilled, every goal accomplished, and every challenge met with aplomb.
You are courageous, and wit personified. We are really proud of what you've accomplished, and we know that you have a bright future ahead of you. Happy birthday, son!
You came into this world with boundless energy, and __ years later, you're still at it. Happy Birthday to our Energizer Bunny!
Birthday Wishes for Teenager Daughter
You are the gift that keeps on giving. You brought us joy as a baby. You made us proud of you as a young child, and now you get us to hope that the world will be better because you are in it. Happy birthday, dear daughter!
We are happy to watch as you grew from a cute baby to a charming child to an elegant young lady preparing to make her mark in the world. With every birthday, you make us prouder and prouder still. Happy birthday, sweetie!
To my little princess, who is now a lady: Someday, you will be the queen of the kingdom you will build on your own. Meantime, enjoy your birthday!
I wish you the very best of everything: big dreams, bigger opportunities, great fortune, and best friends you can always count on. Have a joyful birthday.
Life is a learning opportunity, and we have learned that having you was one of the best things we have done for this world. So proud of you today and always. Happy Birthday!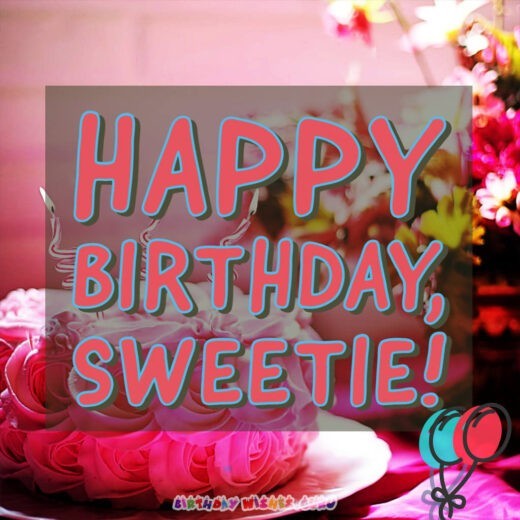 Birthday Wishes for a Friend's Teenager
I've known you since you were a tiny baby. You have turned into one of the most amazing humans around. Hope your birthday is as wonderful as you are.
Enjoy your teen years. There will be no other experience quite like it. Happiest of birthdays to you.
Be the best person you can be, and don't let anyone define the limits for you. Happy birthday, teenager!
Whenever I hear someone say that the earth is doomed, I look at you and find the confidence that your generation will find a way. Happy birthday to an awe-inspiring teen.
I have no doubt that you will continue to make your mom and dad proud. I am proud to have known you. Happy Birthday!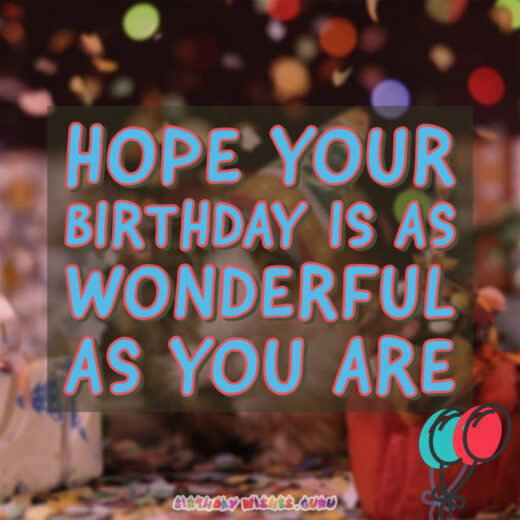 13th Birthday Wishes
You're officially a teen. Happy 13th birthday!
This is your big day. You're finally a teenager. Happy 13th anniversary to an exceptional child.
Turning 13 is a milestone. Finally, you can ask everyone to stop calling you a child. Happy birthday, sweet teen!
This is exciting. You're 13 and ready to take on the world, but first, have a wonderful 13th birthday.
You've waited 13 years for this event. Go ahead. Enjoy your 13th birthday like the fun teenager that you are.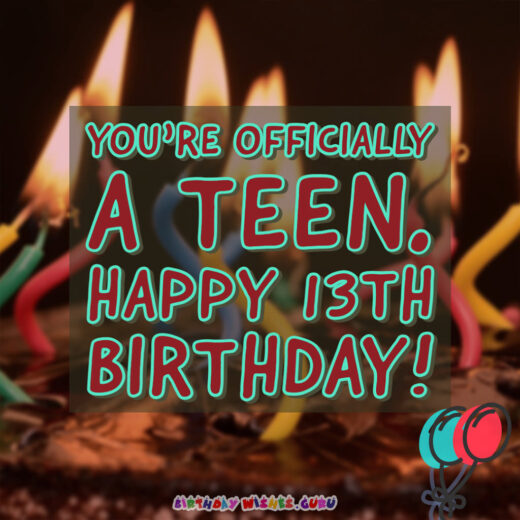 14th Birthday Wishes
You're 14, but you'll always be our baby no matter how old you are. You'll always have a place to call home and people who love you in this home. Enjoy your Birthday!
You have the energy of a 14-year old and the smarts of a 40-year old. We can't wait to see what the future holds for you. Happy birthday, teen titan!
Today, you turn 14. I miss my baby, but I'm so proud of the fantastic person you are becoming. Have a great birthday!
May your birthday be filled with blessings, happiness, and promises of the great things that await you as a 14-year old.
As you turn 14, may you have joy, peace, compassion, faithfulness, kindness, wit, and every blessing that every parent wishes for their teen.
15th Birthday Wishes
Happy 15th birthday! It's your world, and we're only here to stock up the pantry and do the laundry.
You have grown to become a dependable, responsible, and independent 15-year old. We are so proud of you. Have a wonderful 15th birthday!
Sometimes I think you're a 50-year old trapped in a 15-year old's body. You make more sense than some of the 50-ish folks around. But go ahead, and enjoy your party like a 15-year old.
Don't feel bad about turning 15. That's only 1-year old in dog years. Enjoy your Birthday!
Happy birthday and hope you enjoy your 15th year on planet earth. It's an excellent time to be a teen.
16th Birthday Wishes
It's a beautiful day to turn 16. Happy Birthday!
How does it feel to be 16 finally? Excited? Grateful? Joyful? You should know because you've been acting like a 16-year old for a few years now. So have fun on your birthday.
You're 16, and you deserve a cool car. So go on and ask your dad. Happy birthday, champ!
Happy 16th birthday to an amazing person who brought love, life, and laughter to this house.
Enjoy this special day and special year because you'll never be 16 ever again. So have an awesome celebration on your 16th birthday.
17th Birthday Wishes
At 17, you're on the cusp of adulthood. Of course, you can still pull off a few pranks, so enjoy your milestone birthday.
Smile as you mean it. You're 17, and the sun is shining. Enjoy your party.
It's tough to be 17. You're no longer a child but not quite an adult. Happy 17th, and enjoy your last few teen years.
Are these voyages around the sun wearing you down? You're looking great for someone who has gone around 17 times. Happy birthday, adventurer!
Have a blast as you turn 17 today. Next year, you're joining the adults. Happy birthday to my big kid!
More Birthday Wishes