16th Birthday Messages
A young adult's 16th birthday is one of the biggest milestones in their life. This is the big birthday where they are finally able to get behind the wheel alone! It is the ultimate expression of freedom as they take on the open road. Of course, there are other great things about being in the most anticipated year of your teens. Youth and freedom are easily the best gifts one could have on their big day. If you know someone who is celebrating their big 16th birthday, then check out the following messages for inspiration. Chances are they are more excited than you can possibly guess!
I can't believe how quickly time flies. In the blink of an eye, you've turned into a beautiful young lady. Wishing you all the best on this special day, and in all that is yet to come.
Happy Sweet 16 to my best friend! Now, it is your turn to do all the driving. I am so glad we do not have to rely on our parents anymore, yipee!
There is nothing cooler than waking up on your 16th birthday and knowing you can finally drive alone! I know you will pass your big test with flying colors on your birthday.
I cannot believe how big you have become! You get more beautiful with each passing year, my dear. Your 16th is sure to be the best birthday yet.
Can you believe you are sixteen today? You're practically grown up, and ready to drive away in a car of your own. Look out, world!
What is more exciting than waking up on your 16th birthday and knowing you will pass your driver's test? Cake! Cake is, of course, the most exciting part of your day. Happy birthday!
Happy Sweet 16! You are well on your way to becoming the capable and gorgeous adult that I know you will become. Love, (name).
You have grown up so fast! I cannot believe that it is actually your 16th birthday. I promise not to cry, but you will driving the car. I do not want you to wreck it. Happy birthday!
I knew when I met you that we would be together forever. I know we are only 16, but I hope this is the first of many birthdays we celebrate together.
Can you imagine what we will be like when we turn 116? All I can say is I hope we literally remain best friends forever. Happy 16th birthday to my "bestie"!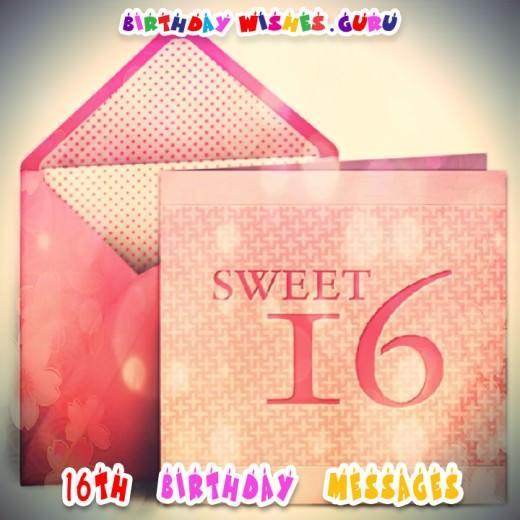 Remember, you will have more responsibilities as you get older. This is especially important when it comes to driving and taking care of a car. Oh, did we not tell you? The car in the driveway is yours, but gas is your responsibility. Happy birthday!
16 years is a long time. It is long enough to know the difference between right and wrong. I hope you are able to accept the challenges that come your way with grace because I know you will. This will be a great year for you, happy birthday.
I cannot believe that you turn 16 before me! It is so not fair! However, I now at least have a personal driver to bring us to our favorite spots. Happy 16th birthday, friend!
The best thing about turning 16 is knowing that you are only two years away from 18! Ok, I am kidding, and I know you will more than enjoy your year as 16. I hope you have an amazing birthday.
Can we discuss how pretty you are? There is nobody more radiant than you on your birthday. Happy 16th to my (relationship).
You are so incredibly handsome. I know I say it all the time, but today you are beaming. You have grown into a delightful young man that I am proud to call my (relationship). Happy birthday, (name).
One of the best things about you turning 16 is knowing that you can now run errands for me! I am so happy to now have my very own personal assistant! Happy birthday! Love, mom/ dad.
Can you please tell me why there is a unidentified vehicle in the the front yard? Oh wait, it is your new car! Happy 16th birthday. Now, go pass your driver's test!
I cannot wait to drive around with you behind the wheel. This will be one present that I can never give you because you have to accomplish it on your own. I know you can do it on your birthday!