Cute Birthday Wishes and Adorable Images for your Wife
Choose the sweetest birthday wishes for your wife written by the best BirthdayWishes.Guru writers. Here are some romantic ideas for adding a little extra warmth to your birthday message and show to the most special woman in your life the love and respect she deserves.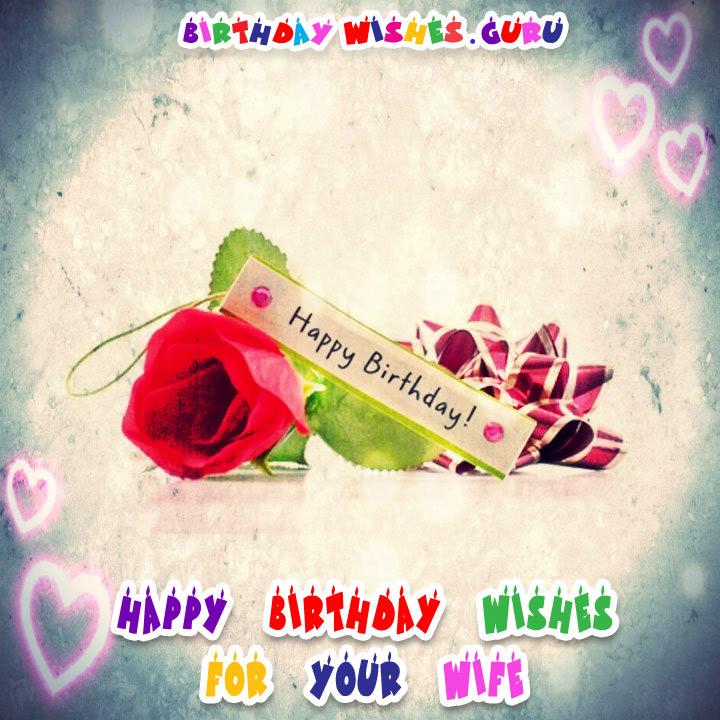 Every day I try to think of ways to show you just how much I care. Today is my chance to go overboard and shower you with hugs and kisses
Happy birthday to a beautiful woman who makes live worth living. I hope today is as full of magic and wonder as you are.
I can't imagine how my life would be without you. Thank you for all that you do to make my life wonderful. I hope today I can show you some of my appreciation.
I know it's supposed to be called "The other half", but when you are away, I don't feel half, I feel empty. So in our case, it's "My everything". Never forget how much I love you. Even though sometimes I may not say it as many times as needed, I always feel it from the bottom of my heart. Happy birthday!
Even though we are now celebrating your 29th birthday for a 8th time, you look younger than ever before. So at least you should feel young and beautiful,  because you still are! Happy birthday my love!
Insane cook, amazing hairdresser, extraordinary baker, top model, excellent mother…..intense driver, but most importantly, my love. I would like to wish you a happy birthday! I love you.
Every day I wake up and look at your face, it reminds me why I fell in love with you. And when you wake up and smile, it reminds me of why that love has prevailed throughout the years. Happy birthday! I love you.
Every day with you is like a dream come true and I never want the dream to end. I hope today is as wonderful for you as it is for me.
I hope you are ready to dance this night away because it's time to party. Put on your dancing shoes and let's go out.
I can't wait to party with you tonight. Let's celebrate this great day that you were born with cookies and cakes and all the sweets you desire.
I look forward to this day because it means that I get to show you how much you mean to me.
You are more than just my lover, you are also my friend. I love you.
There is no place in the world that I would rather be on this special day. Happy Birthday my queen.
Happy Birthday to my dear and beautiful wife. I love you more and more every day and it is an honor to share this day with you.
It is my desire that I get you everything you want for your birthday because you give me everything I want every day
You are the most beautiful woman in the world. Happy Birthday dear wife.
It is the greatest blessing of my life to have you as my wife.
I thank God every day for you dear wife. I am so happy to celebrate this day with you.
I count down the days until your birthday gets here because I am so excited to celebrate with you.
Today is definitely your day but I want you to know that every day is your day in my world. I love you wife.
I can't wait to grow old together my love. Let's make today a special one.
Finding good birthday wishes for wife can be hard. How can words truly let me say just how much you mean to me?
A birthday is celebrated for the sweet and understanding wife you are.
When I see you I see a strong relationship, a beautiful home and family, and how every sacrifice made to earn that life was worth it. I wouldn't change anything.
On the day we get married you were the angel who lifted me up, who gave me happiness and gave me a wonderful wife.
Celebrating your birthday today makes me think that every day of our lives is a celebration because of you.
I feel lucky and blessed that I did find you in my life. You are a great mother, wife, my friend, and most of all my soul mate. Celebrating you this day is something worthwhile.
Many birthdays will pass for you but with every year that passes you will still be my friend, the love of my life, and my soul mate.
You are the girl that I chased all my life until I caught you. I am still falling for you and always will.
Marrying you was the best thing I have ever done. The reason for this is because you are my world and my soul mate. I wouldn't be able to live without you.
I see that my destiny has been completed. I have you in my life as my wife and we have a wonderful marriage.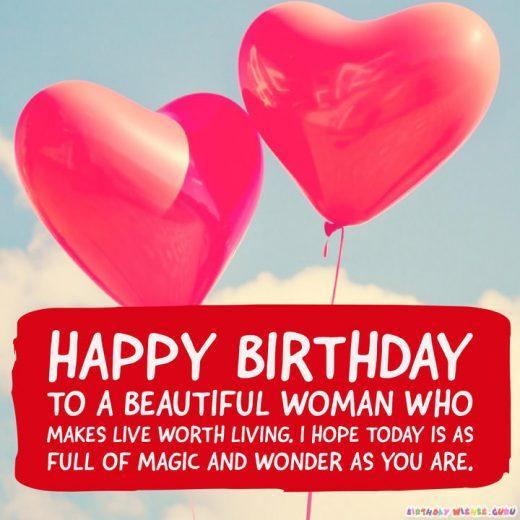 When I first met you I had butterflies in my stomach. Now that you are my wife your still as beautiful as ever. You always comfort me with your softness and I always smile when I see you.
I am unable to give you a gift on your birthday but that is because there is no gift in the entire world that can match how wonderful you are.
We are given happiness always when we show our love to each other, devote our souls to each other and to also just say "I Love You". Happy Birthday.
Being the love of my life is so magical that I couldn't live without you.
Finding you has shown me how good of a wife you are, how well of a friend you have become and how I realize your my soul mate.
Spending years with you is something I look forward to. That something is what give me the purpose to life.
It's you Birthday and you look stunning even though you are turning a year older. You have a glow to you because you are happy and have the best kind of personality possible.
You deserve a birthday beyond the best because you are the best understanding and loving woman possible.
Birthday wishes for a wife that has a husband full of love, Who adores you and who has become your soul mate.
With every year that your birthday passes you become more and more beautiful. This beauty is the most rarest of all.
You are the best thing in my life and what you have brought to me. You have brought loveliness, friendship, a soul mate and most of all a wonderful wife.