Thank You Messages for the Surprise Birthday Party
Only once or twice in our lifetime do we have a surprise birthday party planned in our honor. Even though suddenly being the center of attention might be a bit uncomfortable at first, the kindness and thoughtfulness of the friends and/or family who planned it cannot be denied. Whether a small gathering or a large gala event, the people who put forth the time and expense to honor us deserve an appropriate gesture of gratitude. We may decide on a small gift of appreciation. Certainly, we must pen a personal "Thank You" note, from the heart, expressing how much they mean to us and how much their efforts touched us. Thinking of the place these folks occupy in our lives, the history we share and the affection we feel toward them will inspire the words. Following are a few examples of such a note.
The Party Surprised Me … Your Kindness Didn't
I guess at my advanced age, you decided it's time to test the ol' ticker, huh? Seriously, the surprise party was fabulous!
After the initial shock, I realized how fortunate I am to have a friends who would put forth the time and effort to wish me a Happy Birthday.
Tremendous surprise, tremendous family and friends, and tremendous birthday party. I can't thank you enough for all the fun and great memories.
I can't believe I've gotten to this age and NEVER had a surprise birthday party. Leave it to you to take that off my bucket list!
I don't know how you managed it, but you not only actually surprised me, you made it the best party I've ever attended. Thanks.
Family, friends, music, wine and the most fabulous birthday party EVER! I was truly surprised and thrilled. Thanks!
Just wanted to thank you for a surprise birthday party that will go down in the annals of birthday lore (film at eleven!).
Thank you so much for the surprise birthday party. It made me reflect on the value of our friendship. You are so important in my life.
A simple "thank you" doesn't seem quite enough, but I hope you realize how much my surprise birthday celebration meant to me — just like you.
Blessings upon blessings. God has graced my life with people like you who would go to the effort to throw me a beautiful surprise party.
You realize, of course, that there WILL be some kind of surprise in store for you. Surprises like my birthday party cannot go unanswered!
I could wax poetic for pages about what my surprise birthday meant to me but, for now, I'll just say a heartfelt "Thank You."
The birthday gifts were not necessary, but so appreciated. I was stunned at the generosity of the surprise party you arranged for me.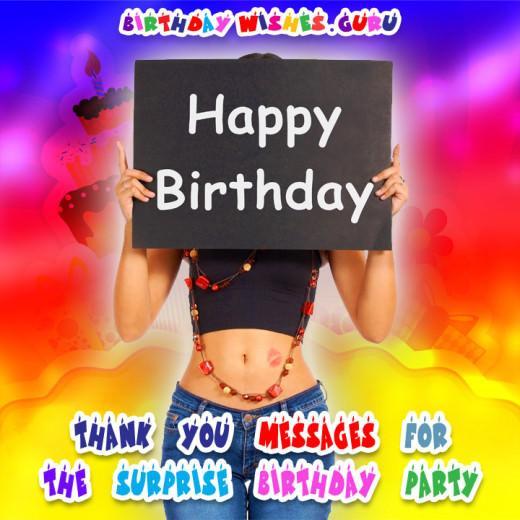 I will pay you handsomely for the photographs of my face when I opened the door to everyone yelling "SURPRISE!" (Thank you so much).
I always appreciate your sweet friendship everyday, but my surprise birthday party was the cherry on top. Thanks.
When I look back on my life remembering events that warmed my heart, the surprise party you hosted will be right at the top. I'm so touched.
My surprise birthday party is another piece of evidence that you are the sweetest, most caring person on the planet.
You enrich my life in so many ways, such as hosting a surprise birthday party for me. Thank you for being a huge part of my life.
What an awesome surprise — all my friends gathered to remind me how old I am! Seriously, it was so much fun. Thanks.
I don't know if I fully appreciate how fortunate I am to have been born into this family. The surprise birthday party you hosted helped remind me.