Thank You Messages For Birthday Wishes and Gifts
Friends and family really come through for birthday wishes, using the opportunity to deliver sentiments which might otherwise go unsaid. We, the recipients of these wishes, should express gratitude for what this relationship means in our lives. There are plenty of social media avenues to deliver a "thank you." A personal pen-to-paper message is always a welcome surprise in this digital age. Regardless of the delivery system, thanking someone for their birthday thoughts should be personal. A note of gratitude to Grandpa, for example, would (and should!) take a different approach than those to our old frat buddies. If their birthday message made you feel warm and loved, the thank you should repay those feelings. "Who is this person in my life?" and "What did their birthday wish make me feel?" are good places to start. Check out our wonderful collection of sample thank you messages for birthday wishes and gifts. Reply to every message, email, tweet, greeting card or Facebook post. Write a heartfelt thank you note and show your appreciation to everyone who sent you wishes or gifts on your birthday.
I received your hilarious birthday wish. You know my sense of humor so well – this year was no exception.
Your birthday greeting confirmed we'd always be friends. Besides, we have too much "on" each other!
You never forget my birthday, and I love you for that — and so much more. Thanks.
It's taken too long, but I couldn't let another birthday pass without thanking you for always remembering.
Families are the best. Birthdays are second best. Family remembering my birthday is just WAY over the top! Love you guys.
Your birthday note was exactly what I needed to hear. I'm so grateful for your support.
Remember when we met as silly, giggling girls? Judging by your birthday wish, nothing's changed!
Kind, thoughtful, and supportive. You are all that and more, and so was your birthday note.
Birthdays keep coming and going, yet somehow you and I are NOT aging! Thanks for the reminder, friend.
Your birthday message came at the perfect time. You really improved my day and I'm grateful.
We share so much — a love for chocolate, wanderlust, vintage clothing… Your birthday message reminded me and made me smile.
Birthday, schmirthday. I was so happy to receive your birthday wishes that I completely forgot to get older!
People my age dread birthdays. Your birthday note reminded me that another birthday sure beats the alternative.
This has been a tough year. Thanks so much for your birthday wish. It made me look forward, not back.
You are the best "birthday wisher" any family could have. Thanks for being related!
Your birthday wishes were music to my ears. You always make me feel loved. It's one of the reasons I treasure you.
Our birthday blowouts aren't like our youth, but you continue to be a huge part of each one.
I don't know how, but you always know the perfect thing to say — on my birthday and everyday.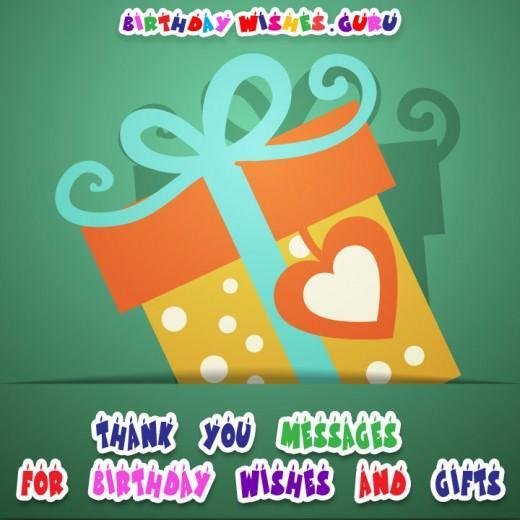 Common sense says the nicest birthday well-wisher should have the most smiles. Your cheeks must hurt from smiling!
I'm sure you don't hear this enough, but your birthday wishes remind me of your kindness and generous heart.
Listing all the things that make up a "good friend" would take all day, so I'll just picture YOU! Thanks for the birthday wish.
You know me so well. That's why your birthday wishes are always perfect. I want you to know how much I appreciate your sweet heart.
You have no idea how much I appreciated your birthday note. It came at just the right time — I really needed to laugh!
If the quality of life is measured by friends, I really hit the jackpot with you. Thanks for the birthday wish.
Happy memories of my birthdays always include you. You never fail to make my birthday special.
Sorry you couldn't make it to my birthday, but your message guaranteed you were there in spirit.
Your birthday message was great. When I see you, I'm going to give you the biggest, most suffocating hug ever! (You've been warned).
You know I was dreading this "milestone" birthday, and you sent me the perfect quote. Thanks.
Of all the birthdays I've ever had, your words always make the highlight reel.
I'm just giving you fair warning: after your awesome birthday wish, I'm going to make it my business to exceed it for your birthday!
Thank you for sending me those photos on my birthday. It made me feel like you were right here with me.
I'm in my daily rut, then I get your birthday message and am reminded how truly lucky I am.
Your birthday wish was like a warm blanket on an otherwise rainy day.
Cake? Check. Candles? Check. Birthday wish from my bestie? CHECK!
Of all my many blessings, I thank God most of all for your birthday wishes and your love.