30th Birthday Wishes
Turning 30 is one of life's great milestones. You're old enough to enjoy life with your own resources yet not too old to start worrying about life on a retirement pension. People look at turning 30 as an important transition between youth and maturity, yet many treat the occasion with levity. Perhaps, it is because 30 is the universal signpost that one is a grownup and should act accordingly while still enjoying life. The 30th birthday is not one that should be forgotten by friends, family and colleagues. Here are some messages that you can tailor to fit the greetings you might like to send to a special person turning 30.
Life is too short to be spent keeping track of the years. Enjoy being a 30-something. Welcome to the club today.
Happy Birthday to the newly minted member of Club 30. Rock like you mean it.
This is it: the big 3–0! Fun and games are over. Now it's time for bigger, better and bolder fun and games for grownups. Enjoy the ride, birthday boy(girl).
Thirty is the new 16, but this time you're smarter, braver and wiser. Here's to another year packed with even more achievements.
You made it! You're 30 today. Doesn't it feel great? Have fun.
Goodbye 20s. Hello 30s. Don't worry. You're still you: fierce, powerful and beautiful. Have a wonderful birthday.
A 30-year old is just another 20-year old with a bonus package of 10 years of experience. Happy 30th birthday!
Just to let you know that you are in my thoughts today as you turn 30. I still remember when we could only count to 10, and everyone was "old."
Happy 30th birthday to someone who embraces every milestone as a promotion to the next level. Your joy is infectious.
Here's a thought: As you turn 30 today, start a 30-for-30 campaign where you get to do 30 fun things with 30 of your closest friends. You know where to find me!
Congratulations on three decades of growing, gaining and savoring life. May you have many more decades to come.
You're 30. It is now or never. Go after those dreams like the champ that you are.
Thirty is a good place to be with enough happy memories to see you through another three decades of discovering what life is all about.
You are 30 and still fabulous, I see. Best of birthdays to you.
Have a great 30th birthday surrounded by good food, great wine and the company of gracious and fun-loving people.
Warm thoughts and heartfelt wishes for someone special turning 30 today. Enjoy this day.
This is a magic number:30. It looks serene yet cheerful. It looks perfect standing off by itself. It's also your age. Happiest of birthdays today.
Thirty is the midpoint between the carefree 20s and the solemn 40s. You could still choose to go either way. Have fun on this happy day.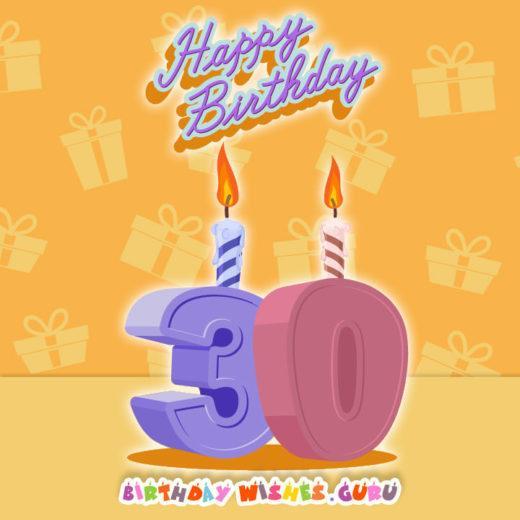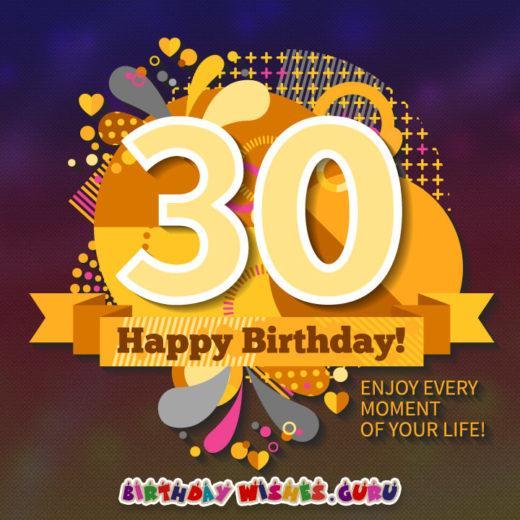 You were awesome at 20, and now you're smashing at 30. At the rate you're going, I can't wait to see you in your fabulous 40s.
It took me three decades to realize what a wonderful human you are. Happy 30th birthday!
There's only one way to do a 30th birthday party – just party until you forget your age. Have fun on your birthday.
The hardest part about turning 30 is that people keep telling you to act your age. How can you do that when no one's showing you the ropes? Happy birthday: Just be happy, and be yourself.
If I had the magic mantle that would cloak you with maturity as you turn 30 today, I would certainly be passing it on to you. But you don't need it. You've got life all figured out.
Let me warn you: Everyone expects you to know all the answers because you're already 30. You shouldn't have a problem with that because you're pretty good at making up answers on the fly. Happy Birthday!
How important is the 30th birthday? No one's rushing to give you senior discounts or offering any specials just for you. Happy Birthday anyway.
Now that you're 30: Love it; live it and relish it.
You just hit the Hot 30s. This year will be a spectacular adventure. Go for it!
Wishing you a day full of surprises on the 10,957th day of your life on earth.(Give or take a few days. I wasn't counting too carefully.)
As you turn 30 today, may your heart know nothing but love and joy. Wishing you the best that life has to offer as you enter a new decade.
Congratulations on another milestone. It's your 30th birthday, and you've come a long way. Here's to more love, laughter and laurels as you make your way through life.